WHO International Stakeholders Seminar on Radiofrequency Policies‏
International Stakeholders Seminar on Radiofrequency Policies to be held on 5 June in Paris.

Please visit http://www.who.int/peh-emf/en for further information.

Download the Announcement of Stakeholder seminar PDF here
Most Significant Government Health Report on Mobile Phone Radiation Ever Published
Today, the World Health Organization's (WHO) new monograph on cancer risk from mobile phones and other sources of RF radiation is featured on the home page of the WHO's International Agency for Research on Cancer (IARC).

Continue reading here
Letter to WHO
Dear Drs. Baan, Straif, and Gaudin,

The UK Radiation Research Trust formally gives notice objecting to the World Health Organisations misrepresentation of the IARC 2B classification of RF/EMF.

Continue reading here
Electrosensitivity: is technology killing us?
Is modern life making us ill? Yes, say those who suffer from electrosensitivity. Are they cranks, or should we all be throwing away our mobile phones? More images from photographer, Thomas Ball's on-going project on electrosensitivity

Article

Video

Pictures
The Round Table Initiative on Cell Phones and Health.
Publication of this is opinion was suggested by the author, Eileen O'Connor. I am very grateful because it gives some insight into the workings of the EU Stakeholders group.

The EU Stakeholders is the "reason" that Michael Milligan of MMF used as a justification to not participate in The Round-Table Initiative.

continue reading here: http://roundtableinitiativeoncellphones.wordpress.com/

Download details and presentations about the Stakeholder meeting at the EU Commission via the following link: http://iemfa.org/index.php/actueel-mainmenu-6
Download tracks from RRT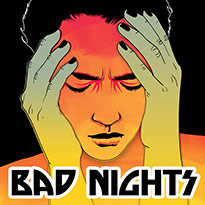 The RRT would like thank Lauren MCnally for the artwork
The RRT needs your help!
Please consider how crucial the RRT charity is and support via financial help so the charity can survive. RRT Trustee Steve Miller aka Afterlife is one of the most successful chill out artists in the world. Steve suffers with electrosensitivity and has kindly donated a track to RRT including 4 mixes to help raise funds to create more awareness about this very serious problem. The Government has failed to support people suffering with electro sensitivity (EHS) in the UK and we must right this injustice. Offer you support by purchasing the track "Bad Nights".
Download here and enjoy!

Feed Entries